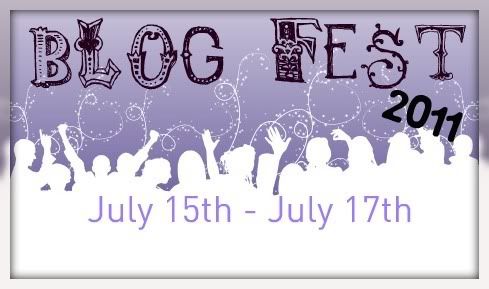 Hey Spinkys!  It's that time again.  I  haven't been posting lately due to the circumstances but I couldn't renig on Blog Fest.  So now through July 17th at 11:59pm EST we will be participating in BlogFest 2011!
What is BlogFest?

BlogFest is a massive carnival of giveaways with a great collection of participating blogs.  Each blog has a giveaway and the idea is to hop from blog to blog, entering all the giveaways your little heart desires.  Hopefully you might even come across a few blogs you might want to bookmark and continue visiting.

How do I enter to win?

Each blog has their own giveaway and their own rules.  The giveaways will start at midnight EST on the morning of July 15th and run through 11:59pm on the night of the 17th.  That's a whole 72 hours that you get to visit as many blogs as you want and enter their amazing giveaways.

What is this Tracking Site?

This is a site designed by me and developed by my live-in IT guru at http://blogfest.ajourneyofbooks.com.  You simply need to register with a valid email (more about why it needs to be valid in a moment) and then start tracking your progress.  You can click through to blogs from this site and once you've visited a site, you can come back and check off that you've visited the blog.  Want to compete with your friends?  When you register, click the option to make your list public and everyone will get to see how many blogs your display name has visited.

I heard something about a Grand Giveaway?

That's right!  This is for anyone using the Tracking Site.  For every blog you visit and mark off, this will give you one entry into the Grand Giveaway.

The winner of the Grand Giveaway will be notified via the email they used to register for the Tracking Site (see, that's why it needs to be valid).  After BlogFest, every email in that database will be promptly deleted.  I despise spam so be assured you won't be receiving any from me!
So here's what we have:
MOGUL by Terrance Dean
Murderville by Ashley and Jaquavis
The Opposite of Me by Sarah Pekkanen
Recipe for Love by Shamara Ray
Heartwishes (galley) by Jude Deveraux
Hurricane by Jewell Parker Rhodes
Hot Box by Zane
Pimp by Iceburg Slim
To enter (Mandatory)
Follow via GFC AND
Leave a comment below with your GFC Username AND
List the top 3 books you want
Good Luck & Thanks to our Friends at Simon & Schuster for the Selections!
Now head on over and visit some of the others participants…
Novels On The Run
Oh My Books!
Once Upon A Chapter
One Book Shy of a Full Shelf
One Hot Mess with Laura Harner
Incoming search terms: